All events are free of charge and open to the public unless otherwise indicated
"Winter Iberia Cultural Resources Program Winter Meeting"
AN EVENING WITH THE ARTS
Tuesday, February 5, 2019
5:30 p.m. Bayou Teche Trading Company-
301 W St. Peter Street, New Iberia, Louisiana 70560
Listen to these artists: Stephanie Judice- writer, Jerome Weber – painter, Donald Voorhies – actor, director, and Ann Patout – culinary specialist.
These ladies and gentlemen will share how they developed their artistic talents separately from their everyday professions.
Due to limited seating and preparation, RESERVE A PLACE FOR THIS PROGRAM by contacting Nelwyn Hebert by phone (369-3510) or email (nelwyn@cox.net).
"A Prelude To Spring" Classical Chamber Music Concert February 24, 2019
"Champagne for the ears" best describes the music presented in this 2nd concert of the New Iberia Acadiana Symphony Orchestra Season. This concert features romantic music and is usually scheduled in February. This year "A Prelude To Spring" will take place on Sunday, February 24, 2019, at 3 PM at St. Peter's Church. The repertoire for this concert is always elegant and classy, touching both the mind and the heart. In fact, chamber music, performed in this kind of concert, got its name because it was played for royalty in their chambers. This year the audience will recognize many of the selections, which was done intentionally to enhance the enjoyment of the musical program.
Books Along The Teche Literary Festival
April 5-7, 2019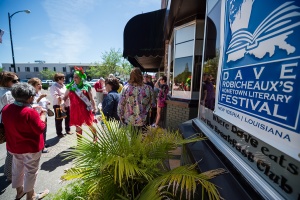 Iberia Preservation Alliance's star project , Books Along The Teche Literary Festival, Celebrating New Iberia, Dave Robicheaux's Hometown, will be held on April 5-7, 2019, on Downtown Main Street. Partnering with the Main Street Program, this second signature event features a variety of components that attracts readers from all over the world who are devoted to author James Lee Burke and his famous character, Dave Robicheaux. Attendees can enjoy the area's delicious cuisine from seafood poboys to sushi rolls to breakfast and lunch at well known Victor's, the cafeteria that Dave refers to so often. Dave Robicheaux Guided Tours, Authors Readings and an Authors/Publishers Roundtable, Theatrical Vignettes, Bourre Lessons and Tournament , Blues Music, the Dave Robicheaux Run, A Book Fair, Showings of "In The Electric Mist", and An Academic Symposium are just some of the varied activities to be offered. The first class museums of Shadows-on-the-Teche and the Bayou Teche Museum, great shopping on award winning Main Street, a tour of the oldest operating rice mill in the United States, Conrad Rice Mill, and trips to the world famous Tabasco plant at Avery Island, Live Oak Gardens and the Joe Jefferson Home are just some of the many attractions to be enjoyed in attendees' free time in New Iberia. Information on the Festival can be obtained by contacting the Iberia Tourist and Visitors Center at (337)365-1540. A Schedule of Events can be found at IBERIATRAVEL.COM. Tickets and Posters can be purchased at EVENTBRITE.COM. Please note that James Lee Burke will not attend this event as he will be out of town during the Festival.
"Symphony Sunday In The Park" Outdoor Pops Concert April 7, 2019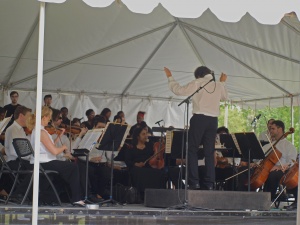 The 3rd concert of the season, Symphony Sunday is perhaps the most popular concert of all. At this outdoor Pops concert, you find families , couples, and single individuals all over City Park enjoying the likes of Broadway tunes, big band music, and jazz selections. The afternoon begins with many spreading out blankets and picnic food ,participating in the competition to win a prize for the best Picnic Theme of the day. Others take advantage of the instrument petting zoo, allowing many children to examine and try out different musical instruments. Finally, there are always fun loving couples and children who cannot resist dancing to the captivating music. This year's Symphony Sunday In The Park will be held on Sunday, April 7, 2019 at 3 PM in New Iberia City Park. In case of rain, the concert is held in the Sugar Cane Festival Building.
This year's theme is "From Hollywood to Broadway". We are especially proud of the fact that Iberia Cultural Resources Association and IBERIABANK have been presenting the Acadiana Symphony Orchestra to the New Iberia community for a decade. This year's program will include a performance by the North Lewis French Immersion Students. The concert will be enjoyed by participants in "Books Along The Teche Literary Festival" since "Symphony Sunday In The Park" will be the culminating event of the Literary Festival.
Iberia Cultural Resources Association will also take advantage of this special opportunity to honor six of the Founding Members of the organization. They and/or their families will be invited to attend the concert, sit in the Reserved Symphony Patrons Tent , and enjoy the Patrons' Party following the concert.
"Stars and Stripes - A Musical Celebration "
June 30, 2019
In an effort to honor Iberia Parish war veterans, a special concert of patriotic and WWII era music is held in late June in the Sugar Cane Festival Building. This fourth free concert by the Acadiana Symphony Orchestra completes the "New Iberia Symphony Concert Season". The Acadiana Symphony performs every year with the Iberia Community Concert Band. Thist year's concert is scheduled for Sunday, June 30, 2019 at the Sugar Cane Festival Building from 3:00 pm to 4:30 pm.
"Summer Iberia Cultural Resources Program" Summer 2019