All events are free of charge and open to the public unless otherwise indicate
Sounds of the Season Christmas Concert
Sunday, November 29, 2020 11:30 am-1:00 pm
This year's concert will consist of a Rebroadcast of the 2018 "Sounds of the Season" concert by the Acadiana Symphony Orchestra which can be heard on KANE 1240 AM or 107.5 FM Radio.
"A Prelude to Spring" Concert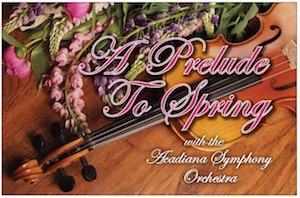 Sunday February 14, 2021 3 pm
St. Peter's Catholic Church
"Symphony Sunday in the Park" Pops Concert
" THE BEST OF AMERICAN POPS"
featuring the Acadiana Symphony Orchestra
Sunday, April 11, 2021 at 3 p.m. - New Iberia City Park, Gazebo Area
Concert is free and open to the public. We are encouraging everyone to come out and picnic before the concert. A picnic contest for Best Theme will be held with very special prizes!
"Stars and Stripes - A Musical Celebration" Patriotic Concert
In an effort to honor Iberia Parish war veterans, a special concert of patriotic and WWII era music is held in late June in the Sugar Cane Festival Building. This fourth free concert by the Acadiana Symphony Orchestra completes the "New Iberia Symphony Concert Season". The Acadiana Symphony performs this concert every year with the Iberia Community Band and is scheduled for Sunday, June 27, 2021 at the Sugar Cane Festival Building 3:00 pm.